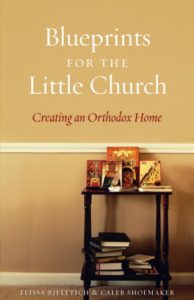 Much of our book, Blueprints for the Little Church: Creating an Orthodox Home, focuses on what we call the "Foundation Stones" of prayer, fasting, and almsgiving. Christian homes are built around and on top of these foundations, and those within them become healthier and holier through the years and as practice produces more and more fruit in their lives. It's important to remember that your family's piety and devotion is not a secret formula or magic spell which–once set in motion–works on its own to produce little saints. It's a work–an effort–to raise children to be holy and godly, and our homes (our Little Churches) are the training ground for these warriors of Christ.
An essential element of the family's piety is its prayer life. As we say in the book, prayer is the mortar which holds all the other elements together. It's our family's connection to each other, to the broader Church, and to God through time spent in communion and communication with Him through our prayers. Prayer as a family, no matter how short or simple, is vital to a growing family spirituality. We'd like to talk a little bit about setting up a family icon corner or home altar as a good first step in developing your family's prayer life.
Step 1: Location
Identify a wall or corner in a main living area of your house. Preferably, your icons will be on an east wall so your family can be facing east–just like at Divine Liturgy–whenever you say your prayers together. If there isn't an east wall that's good for hanging pictures on, find the most convenient. Don't put off a family altar just because you don't have space on the east side of your house.
Step 2: Whom do you know?
Start your icon corner simple. It's not meant to be a large production. In fact, in many homes around the world and throughout history, a family may only have one or two icons which are passed down from generation to generation. So don't feel like you need to fill your home with every icon of every saint you've ever heard of. Start small.
Begin with an icon of Christ and His Mother–the Most Holy Theotokos. If you can, find a nice cross or crucifix as well. Place the cross in the center of your space with Christ on the right and the Theotokos on the left (just like in Church). There's the start of your icon corner!
Through the years, you may collect icons of family patrons, beloved friends among the saints, or festal images. But those will come in time as those saints identify themselves and as icons are gifted or shared in your community. Don't put off creating your icon corner because you feel it's too small. Begin simply and build over time.
Step 3: Fire and Oil and Water
Another part of your family icon corner may be candles, incense, holy oils, or holy water (blessed at various times through the year). Perhaps you will purchase candles at church each week to burn in your home. Maybe you'll build or buy an oil vigil lamp to keep lit throughout the week. Candles are an important part of our prayer life in the Church because they represent the light of Christ and the fire of the Holy Spirit burning in our hearts. Various saints and writers have talked about the importance of lighting candles before we begin to pray to help kindle the fire of prayer in our hearts.
Incense and holy oil are easily procured through monasteries or shrines. Many monasteries in the United States have holy oil available upon request, and incense for home use is also widely available. These are special additions to your home altar, and help to create the atmosphere of prayer and worship we feel at church in our homes each day as we say our prayers.
Step 4: Pray
This is really the most important part of the process. Icons without prayer are over-stylized ancient art. Icons aren't just pretty pictures to decorate our walls, they're windows through which we gaze into heaven and the saints look back at us. They are aides to our prayers and need to be treated as such in our private devotions. If your family doesn't have a habit of prayer, begin to pray each day (perhaps just a simple Our Father before bed) in front of your icons and join your prayers with the prayers of the saints and the Church!