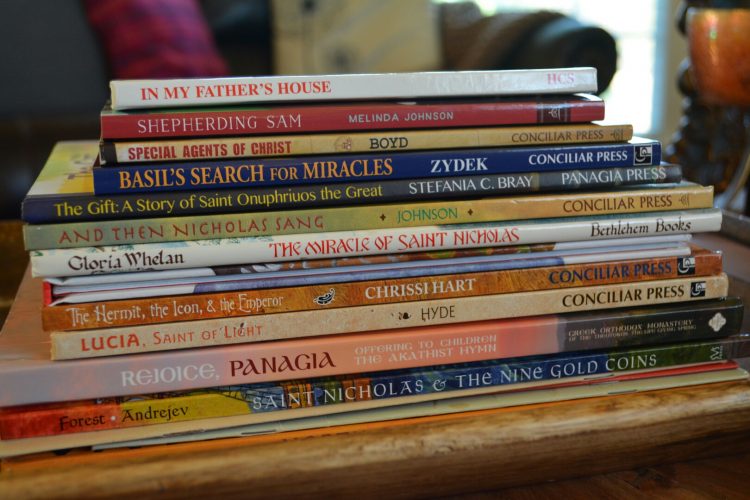 I was asked to compile a list of my all-time favorite Orthodox children's books. Immediately, I started pulling book after book from baskets and shelves. Most people know better than to ask me to talk books, but I was asked nonetheless, and so I tried hard to make this post as brief as possible and have only listed my absolute favorites.
These are the books that can never quite stay on the shelf, the ones chosen over and over again and have found themselves in the middle of cozy couch snuggles and flashlight sessions under little-boy bed covers.
So, here they are–my list of Books Every Orthodox Child Should Own:
The Gift: A Story of St. Onuphrius the Great by Stefania Bray – This is such a warm and beautiful story about young St. Onuphrius and the relationship he has with the Mother of God. It reminds you of the purity and innocence of childhood and encourages children to develop a personal relationship with Christ and His saints.
And Then Nicholas Sang: The Story of the Trisagion Hymn by Elizabeth Crispina Johnson – This is one of those stories that gets me every time. I end up choked up and sometimes have one of the boys finish reading it. It is a beautiful way to introduce children to the real history of one of the hymns chanted not only during the Divine Liturgy but in both morning prayers and Small Compline. Stories like this makes our faith real in the hearts of our children and helps them connect with their Faith.
A Pocketful of Seeds by Sylvia Leontaritis – I may be a little biased here since I wrote this book, but I continue to love and cherish the story that inspired it. It is the story of the faith and perseverance of Elder Ephraim who traveled from Mount Athos to America to plant seeds of Orthodoxy, which are the nineteen Athonite monasteries he established here in North America. In the book, Papouli endures many hardships and is met with more than a fair share of trials, but he prays and he sows and God's will is done.
The Hermit, the Icon, & the Emperor by Chrissi Hart – This is a beautifully illustrated story about the Eleousa, or merciful, icon of the Mother of God and how it came to live in the Holy Monastery of Kykkos in Cyprus through the interaction and miracles of the hermit and the emperor.
Yiayia and the Prosphoron by Egle-Ekaterine Potamitis – This book is such a fun read and helps children understand the importance of baking the prosphoro, the bread that is blessed and used in the mystery of Holy Communion. There are also fun activities at the end of the book.
A Gift for Matthew by Nick Muzekari – Matthew goes on a pilgrimage to a monastery where a monk teaches him how icons are written. He learns about sketching, mixing pigments, praying, and the other steps in creating these holy images. When he gets home, he finds a surprise gift just for him!
Orthodox Kindergarten from Potamitis Publishing – Even though this book is targeted at 2-year-olds, my 5-year-old still loves to read it. It teaches some basic fundamentals, like doing your cross and going to church, and also shows through the beautiful illustrations different elements in an Orthodox home, such as an icon corner and censer.
The Abbot and I: As told by Josie the Cat by Sarah Elizabeth Cowie – This book is one of our oldest ones and is still a favorite. It is the story of the abbot, or elder, of a monastery from the viewpoint of his cat, Josie. Josie tells the reader about all the things she sees at the monastery, like people attending confession and the different jobs the monks do every day. A great book if you're planning a monastery trip of your own!
Christina Learns the Sacraments (and all the other Christina books!) by Maria C. Khoury – All of the Christina books are wonderful, but I love that this one introduces children to the Sacraments of the Orthodox Church. It's a great story to read before bed, but also to revisit on Saturdays before receiving Holy Communion the next day or on Holy Wednesday before your child receives Holy Unction. This is one of those books that not only entertains but educates as well.
Warrior Saints from Potamitis Publishing – This is another book I may be biased about since I helped edit it, but it is a definite favorite. While editing, I could not wait for it to be published so that I could hold a real copy in my hands and read it to my boys. Instead of them being filled with stories of make-believe superheroes, this book fills their heads and hearts with stories of real-life warrior saints, who put even the greatest superhero to shame. They love reading about fierce soldiers and victorious heroes, all while learning about some of the Church's greatest saints.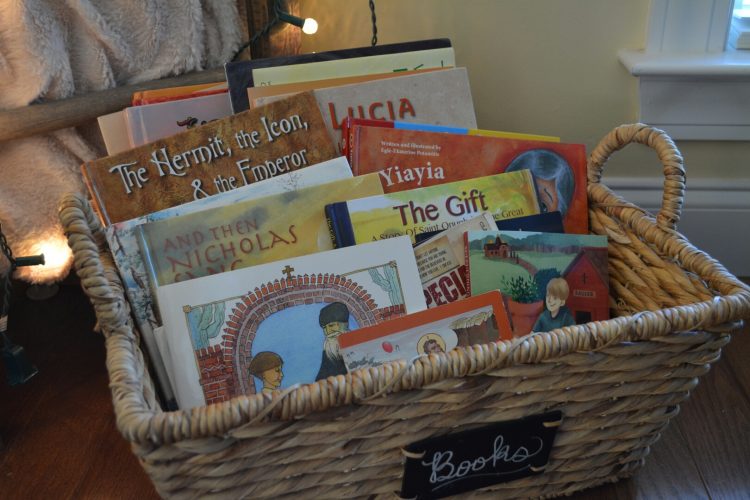 The Monk Who Grew Prayer by Claire Brandenburg – Another oldie but goodie. This is a great introduction to the Jesus Prayer and teaching children that prayer can be cultivated while doing even the most mundane and ordinary tasks. Cleaning your room? Bless it by saying the Jesus Prayer. Sitting at your desk in school? Cultivate prayer in your classroom by saying the Jesus Prayer. If you are a lover of the prayer, your child most definitely needs this book!
Rejoice, Panagia: Offering to Children the Akathist Hymn from Monastery of the Theotokos the Life-Giving Spring – This is by far one of my favorites on this list. It is so incredibly gorgeous, the illustrations and quality make it perfect as a coffee table book, all while teaching us (not just our kids) about the Akathist Hymn. It goes through all 24 verses and explains what they mean and includes icons that have been in churches throughout the world for over 1000 years. Parents will be amazed at how much they learn from this book while teaching their children about the importance of this service from a young age.
The Boy, A Kitchen and His Cave: The Story of St. Euphrosynos the Cook by Catherine K. Contopoulos – St. Euphrosynos is an icon that adorns many an Orthodox kitchen, but few people know the story behind this saint. His story is beautifully told and illustrated in this book and is one your children are sure to remember each time they see his icon or eat an apple.
St. Peter the Aleut: Martyr of San Francisco by Avra Economakos-Hopkins – My kids loved this book because it is one of the very few Orthodox books written and illustrated in a comic-book style. This American saint is one children can connect with easily after reading about the courage and boldness St. Peter the Aleut had at such a young age. It will hit close to home in more than one way.
In My Father's House: Gospel Stories for Children from Holoviak's Church Supply, Inc. – A beautiful book perfectly sized to take along in your bag. It is filled with Gospel stories children can understand and will help them relate to the readings they hear their priest read in church each week. A wonderful first Bible sort of book for kids.
Special Agents of Christ by Annalisa Boyd – When I first read the title of this book, I knew my kids would love it. It is full of special Operations for children, complete with stories of different "agents" of Christ, security checks aka 10 commandments, prayers for various occasions, and pages where kids can write in people and things they want to pray about. We created an entire Agent Training activity to go along with the lessons in this book. Super fun and educational!
Sweet Song: A Story of St. Romanos the Melodist by Jane G. Meyer – St. Romanos is one of my favorite saints, so I was thrilled to see a children's book about him. In the story, young St. Romanos' shows his devotion to Christ and the Theotokos and longs to be able to chant a beautiful hymn to them. But every time he tries, the words come out croaky or not at all. The other chanters tease him–until one miraculous Christmas Eve.
St. Seraphim's Beatitudes by Fr. Daniel Marshall – A fantastic way to teach the Beatitudes to children while also teaching them about the life of St. Seraphim of Sarov. The book is beautifully written and illustrated, and parents can easily read one beatitude at a time during bedtime reading.
Shepherding Sam by Melinda Johnson – We are only halfway through this book, but the first thing that made me want to get my hands on a copy was its genre. There are so few Orthodox books for middle-grade readers. We've been taking turns reading it aloud a bit at a time and so far have really been enjoying it. The story is about a sheepdog named Saucer who insists on herding everything from the animals at the monastery where he lives to the nuns themselves. Saucer meets Sam, a boy who is always into trouble, and realizes that he is the only one who can bring the lonely boy back to the flock.
Basil's Search for Miracles by Heather Zydek – A 12-year-old boy dreams of being a reporter. After changing schools and struggling to find his place, he lands a job on the school paper. His first assignment is to report true modern miracles. Basil begins learning of miracles that healed people and more, and begins to better understand his faith and own place in life and sees that miracles happen every day, even in his own life.
Song of the Talanton by Claire Brandenburg – This was another book I was very excited to see published. I didn't even know what a talanton was until I was 18 and visited a monastery for the first time. I was amazed to learn that that knock, or song, was the same call that Noah used to call the animals into the ark! The book comes with a CD so children can hear the actual song of the talanton, along with instructions on how to make your own.
I'm also including a few books that I think are perfect for the Nativity season:

The Miracle of St. Nicholas by Gloria Whelan
Saint Nicholas and the Nine Gold Coins by Jim Forest
The Storm and the Sea: A Story about the Life of St. Nicholas by Ann Marie Gidus-Mecera
North Star: St. Herman of Alaska by Dorrie Papademetriou
Lucia Saint of Light by Katherine Bolger Hyde
The Holy Nativity of Our Lord: The Birth of the Messiah from St. Nectarios Press (story + coloring book)
The Adventure of Father Evangelos by Egle-Ekaterine Potamitis
My Very First Book of Nativity Words from Orthodox Lighthouse
An Icon for Christmas: An Icon Story to Color by Theofania Katris Gonis
Vassilopita: St. Basil and the Story of the New Year's Cake from Akritas Publishing (This book is no longer in print, so you'll have to search around for this one, maybe checking Orthodox bookstores in person, but it is a great one to have in your collection!)
And I would be remiss if I didn't mention somewhere in this post my absolute favorite gift for every holiday, the Paterikon for Kids series from Potamitis Publishing. These books are small and inexpensive, which makes them perfect for stocking stuffers or just an extra little something to add a spiritual element to any gift you're giving. Not only are they available for the major feasts, but they have them for saints or stories some of us have never even heard of. A few of my favorites are:
St. Nectarios' Shoes
St. Spyridon and the Horses
The Holy Myrrhbearers
Mother of Orphans: St. Sophia of Thrace
There are so many more I could've included, but for the sake of not totally overwhelming you, I'll stop here. Let me know if you've read any of these or plan to add any of them to your home library. I'd also love to hear some of your favorites! Wishing you all a blessed and peaceful Nativity season!