God made every child, and God can speak to every child. As human parents, we struggle to do the same. You know your children more deeply than anyone else does. You know what their special needs, and despite the times you fall short, you know how to meet those needs.
We'd like to share an article with you. It was written by Summer Kinard, an author we met in June at the Ancient Faith Writing and Podcasting Conference. It's NOT just another parent book review. When we sent her a copy of Goodnight Jesus, our new board book, we asked her to write about it specifically in the context of her family.
Summer begins:
First, let me give you a statistical analysis of my children.
Ages: 8,6,2.5,2.5,1.5
Special Needs: ADHD, dyslexia, autism, sensory processing
3 boys, 2 girls
Summer chooses books with these intense, competing needs in mind. Finding a bedtime story that will nurture all five? There are days when that seems impossible. Will it work for the child who needs to wiggle? Will the pictures be engaging without being overstimulating? Is it simple enough for the little ones but still interesting enough for the older ones?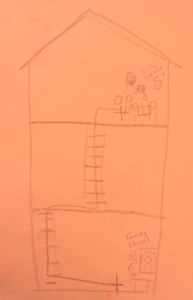 A bedtime story book seems like a small thing, at first glance. But if you have children, you know that your day is one small, important detail after another, strung together into a life, a memory, a powerful chain that can lift your little ones or bind them.
Small things, and small people, matter.
Whether you are ministering to these special needs in your family or not, this is worth reading. It's always worth taking a moment to walk in another parent's shoes. It's also good to know that your child isn't the only one who eats his board books!
Click here to read Summer's story about using this book: Goodnight Jesus Book  Review