I'm a tiny bit over fifty, I still like to do handstands, and I often prefer hanging out with children over adults. Do you know why? Because children laugh at the silliest things, they love stories, and they almost always tell it like it is. Sure, some little folks are crafty, and learn the art of tall tales at a young age (and goodness, aren't those first fibs so inventive?!!!), but more often children are so completely open, and honest, and trusting.
Some children aren't in the mood for laughter, though. Some children are forced to face things that even you and I haven't faced. Seraphina is only five and already has cancer.
Earlier this year, I was visiting with family in Arizona, and offered to hang out in the Sunday school rooms at an Orthodox church in Northern Scottsdale. I often do this when I travel, so I can meet new Orthodox kids and do one of my favorite things—share books with them. On that Sunday in Arizona, they sent me from room to room where I spoke with the kids, read When God Made You, my latest picture book, and generally just got to soak in their awesomeness. Before the first book reading, I asked the kids to close their eyes and really think about who they are. Who am I? What things about me are unique? What is inside of me, that isn't inside of you?
After reading the book, we revisit these questions—Who am I? What makes me me?
Oh, the answers!
I love to dance!
I'm already so tall!
People say I'm kind…
I'm really good at karate.
I paint icons, and I love the color purple, and I can speak Russian!
I am like sparkles—look at my shoes!
During my time with Seraphina and her class, they all respectfully listened to the book, answered my questions in their exuberant pre-kindergarten sort of way, and then we got down to business. Each child had the opportunity to draw a self portrait or write a few words about themselves, or generally just hang out and talk about how interesting each and every person on this planet is.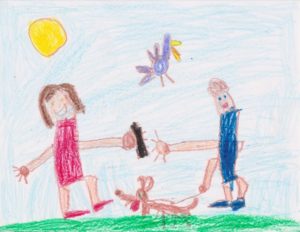 But Seraphina didn't want to draw. She was quiet when the others shared. Until she walked over and sat next to me and said, They're going to give me medicine next week and all of my hair will fall out.
I gave her a squeeze, and whispered a prayer.
When God Made Seraphina, He made her with large eyes, and a generous heart. He made her love flowers, and rain, and her sweet dog, Maestro. But when she turned four, she got cancer…
Real life can show its brokenness so boldly. So where does that leave me? Where does that leave Seraphina? Where does that leave you?
Hopefully it sends us straight to prayer. Begging God's mercy on His young servant. Hopefully it sends us deeper into our selves. Why are we here? What purpose are we made for today? What purpose are we made for tomorrow?
At another reading of When God Made You, a reading to adults, I turned to the last page, where an Afghani girl is featured. The text reads:
When God made Sabira He melted laughter, hope, and truth in a copper cooking pot. He added six pomegranate seeds, a skein of orange wool, and three shards of brick. He spun the liquid into the shape of a horn, adding one tiny drop of zeal and another that longed for Paradise. Then joyfully God shouted in a loud voice,
Sabira, LEAD!
I just love this last page of the book. It's one that doesn't figure into stereotypes. Some of the children in the book are a little bit predictable: Hikaru, Carmelo, even Brigid—because mankind can tend to be a little bit predictable. But some of the children featured in the book break away from the typical or expected. And Sabira, an Afghani girl born to lead, does just that…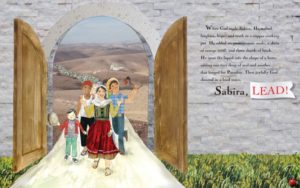 …But after this one particular reading a woman said to me, Really?! The girl? Did you have to have the Afghani girl be the leader?!
Yes! Sabira (modeled after a friend of mine) was born to lead. She had to lead. God made her to lead! She wouldn't be fully Sabira, if she didn't gather people around her and walk with them toward Paradise.
Sometimes paths aren't very predictable, but does that mean we shouldn't walk them?
We're all broken and need healing. Some of us, like Seraphina, need physical healing. Please pray for her. And all of us need spiritual healing. We need the Holy Spirit to flood our hearts—to push and expand our hearts open—so we can love better, so we can actually be the people we are intended to be. Even if, for now, that means being a little girl with cancer.
If God is Love, and man was created to know that love, learn about that love, share that love, partake of that Love, (…and I do believe that God Is Love…) then think about who you are, and who you are called to be today. Healer. Teacher. Peacemaker. Nurturer. Warrior for Truth. Bearer of Beauty? Maybe none of these things. Maybe not today, but we are all called to love. We are all called to love today.
So I urge you–go love your neighbor! Go love your enemy! Go… pray, and pray with a spirit of love that will help heal and change the world.
He who does not love does not know God, for God is love. 
1 John 4:8