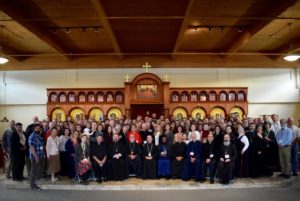 "How many people have you witnessed to this week?" asked my Sunday School teacher in the Baptist church where I grew up. This was a common question in my background and, if I'm being honest, a great source of guilt. Intentionally or not, evangelism felt like a series of notches on a gun belt and a not-so-subtle opportunity to boast. "I've led 25 people to the Lord this year! How about you?"
Becoming Orthodox, it took a while to understand the Orthodox approach to evangelism. I heard a lot about "Come and See," but very little about "Go and Tell." It also became apparent that when we said evangelism and conversion, we were actually talking about bringing existing Christians into the Orthodox Faith from other Christian traditions. Yet, in researching the historical practice of the Orthodox Church, I saw a rich, vibrant, and aggressive model of consistently successful evangelism of entire countries.
In this country (America), we have every imaginable tool for evangelism as well as the freedom (at least for now) to proclaim the Gospel. So why aren't we doing more of it? Having just returned from the "Bringing Orthodoxy to America" conference in Portland, I learned there are several reasons, which were described as obstacles to be overcome not endured.
Bringing Orthodoxy to America
The "Bringing Orthodoxy to America" conference was held at St. John the Baptist Greek Orthodox Church in Beaverton, OR. Speakers included Metropolitan Gerasimos, Fr. Luke Veronis, Fr. Theodore Dorrance, Fr. Evan Armatas, and Fr. Barnabas Powell. Topics included renewing the established parish's missionary zeal, overcoming obstacles to parish growth, understanding and utilizing social media in the parish, and evangelism resources for parishes both small and large. Over 160 delegates from mostly Greek Orthodox parishes openly discussed those obstacles with a deliberate intention to overcome them. I left Portland with a renewed sense of hope, seeing that there are some vibrant, thriving parishes who have made themselves a welcoming community, anticipating the questions visitors might have and making sure they are well cared for. You can watch and listen to the recordings on Ancient Faith Radio.
Becoming Truly Human
Another encouraging initiative for evangelism is the Becoming Truly Human project in the Antiochian Orthodox Christian Archdiocese of North America. Under the pastoral leadership of Metropolitan Joseph, Becoming Truly Human is targeting evangelism in its purest sense. I'm speaking of an outreach to the un-affiliated, those sometimes referred to as the "nones." If someone checks the "none" box on a survey when asked about their religious affiliation, they qualify for this category. Becoming Truly Human is connected to Ancient Faith Ministries through an inter-departmental partnership in the Antiochian Archdiocese including the Department of Missions and Evangelism led by Fr. John Finley. It features a high-quality documentary film by the same name and under the Ancient Faith Films banner. This full-length feature film premiers in a few weeks and will be used in conjunction with a carefully developed program to introduce the "nones" to Orthodox Christianity.
Becoming Truly Human focuses on a method of outreach built on small-group discussions to help guests to feel loved, listened to, and welcomed. They come for many reasons, but they return because they are being treated as "truly human."
The program director is Fr. Michael Nasser, pastor of St. Nicholas Antiochian Orthodox Christian Church in Grand Rapids, MI. Fr. Michael became involved after he saw the impact it was having on his mission parish in Bowling Green, KY. After Fr. Michael ran the program at a local university, one of the guests who had identified himself as an atheist told Fr. Michael after the discussion that, "There are not a lot of places like this to have a great discussion."
The Becoming Truly Human program administrator is Sdn. Adam Lowell Roberts. Adam was one of the co-founders of Camp St. Thekla for the Antiochian Archdiocese, hosts a podcast on Ancient Faith Radio called "Go Forth," and attends St. Ignatius Antiochian Orthodox Christian Church in Franklin, TN. After listening to Ancient Faith Radio, Adam developed a deep interest in the art of loving discipleship. These interests led him to the Becoming Truly Human Program.
A Journey to Fullness
A third encouraging project involves our friend and partner Fr. Barnabas Powell. The Journey to Fullness video project was launched on October 3, featuring 16 teaching sessions on the richness and beauty of the Orthodox Faith. I wish there had been a series like this when we were investigating Orthodoxy 17 years ago. Produced by Ancient Faith board member Joel Smith of Comprehensive Media, this is a high-quality presentation with a helpful workbook to guide a class or individual through the series. Among the session titles are these:
• Is this trip really necessary?
• What is the Orthodox Church?
• When did Orthodoxy begin?
• Characteristics of Orthodox Christianity
Twelve more titles make this a valuable tool for parishes to use in helping inquirers learn about the Faith. Fr. Barnabas has a simple and engaging style and comes from a Pentecostal Christian background, which helps him relate to an evangelical audience. He is joined at the end of each session by Orthodox convert Shelia Mullican, who asks follow-up questions to bring further clarification on what we just heard. These videos are available exclusively from Ancient Faith Ministries in either DVD or download formats.
Go and Tell
So the "Great Commission" is not optional for Orthodox Christians, and it is encouraging to see some movement toward positive and effective outreach in and among our Church leadership. Ancient Faith Ministries intends to play a leadership role in this kind of intentional outreach, and we invite you to join us!