Staying positive in this crisis can be difficult. Not because there is a paucity of good in the world. No, there are many who are astounding me with their creativity and their ability to make a good thing out of a tragedy. What worries me is how many Christians seem content with quarantine-worship at home, as though it were enough. Add to that some very odd assertions about the Church being merely what you do at home in front of your icon corner.
No. Corporate worship is indispensable, if you're a Christian. There is no way of looking at the closing of churches, or of limiting services to clergy, in any way other than with tears and a broken heart.
And merely being there, in front of a screen, watching services–that's really not enough. It's not accidental that this is happening during Lent. If we thought that God would never give us all a personal message that we are not doing enough to acquire the Spirit and to live an active, fruitful spiritual life–this is it. Now is the time to reorient our lives around the proper priorities.
Let's stop watching Netflix. Let's take advantage of this time. We have two and a half weeks left until Pascha. Can we use this time to turn aside the hand of God and to have HIM effect the miracle of a cure from the virus? Why not? If the Ninevites could do it in three days, why can't we do it in two and a half weeks?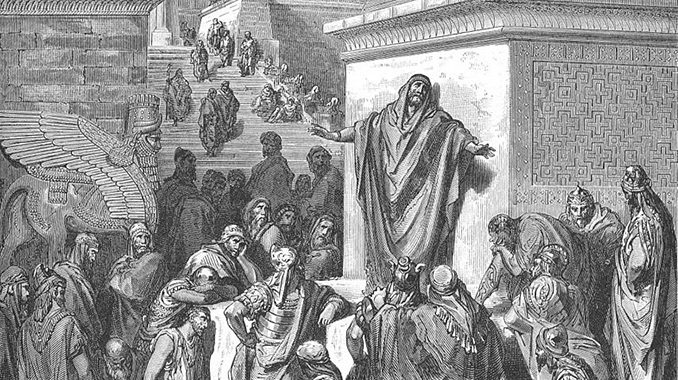 I've been translating the works of a man who lived, and led, Russia through a cholera epidemic. These words resounded in my heart, and made me want to "get up and doing." I hope they will do the same to you.
Excerpts from a Homily on Pentecost by Metropolitan Philaret (Drozdov) of Moscow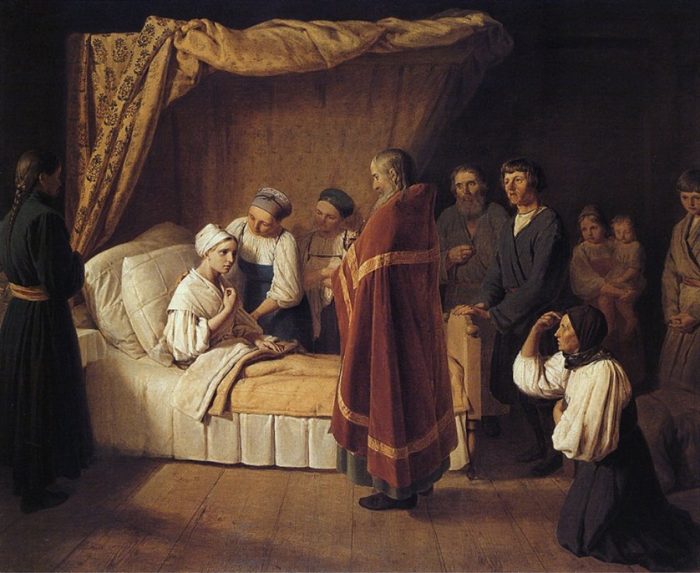 The peace of the world is a short nap during a terrible storm–a safety founded on ignorance, so that the joyful exclamation "Peace and safety!" is sometimes interrupted by "sudden destruction [that] comes upon them." (1 Thessalonians 5:3) On the contrary, the peace of Christ is founded on unbreakable certitude in one's reconciliation with God, so that the Christian, even in the midst of temptations, sorrows, and dangers is "not in despair", but is even "delivered to death" calmly, knowing that "our light affliction, which is but for a moment, is working for us a far more exceeding and eternal weight of glory." (2 Corinthians 4:8-17)

In such a person, the spirit of greatness abides, which is neither blind bluster, nor puffed-up pride, nor the glitter of natural virtues that are impure in their source, but a true exaltedness of thoughts that are busy with a contemplation of God, a vista limited only by eternity, a nobility of emotions that are born and cultivated by the word of God–a spirit of humility that even in the midst of the riches of the benefits of God sees only its own poverty and unworthiness, the more to glorify the Lord.

However, the person who is not reborn by the Spirit of God tries to find something exalted in his own limitations, he asks for respect based on his own humiliation, he slithers on the ground to smother others. The power of such a spirit makes a Christian as powerless as all others, a slave of his own emotions, surrounded on all sides by the attacks of enemies, defeated even before the battle begins, constantly being defeated by one passion, even if only to calm down another passion.

No so the brave warrior, who "puts on the whole armor of God," (Ephesians 6:11), who "can do all things through Christ who strengthens" him (Philippians 4:13), who "takes [heaven] by force!" (Matthew 11:12) What shall we say of the wondrous "diversities of gifts and manifestations of the Spirit" that those chosen by God receive for "the profit of all" (1 Corinthians 12:4,7), for the establishment of the entire Church?
If we have never thought seriously that we must, as Christians, acquire tangible spiritual gifts, then we are not truly living. St Philaret makes that very, very clear:
There are even among us Christians people who consider the gifts of the Holy Spirit so strange that if they do not completely reject them, at the very least they ascribe them only to other people and other ages. They themselves, thinking nothing of rebirth, are content either in a vain hope in the merits of the Intercessor, or even in their own honor.

Let us not fool ourselves with the attractive external appearance of typical earthly goodness. To not be an enemy of the faith, to not perform egregious acts of unfairness, to occasionally give alms, to avoid harmful excesses–in short, to only do the absolutely necessary, to fulfill the external responsibilities demanded of a human being as a member of society–this is nothing but whitewashing your own tomb (Matthew 23:27), which all the while remains "full of dead men's bones and all uncleanness."

Such a life is nothing other than tearing off the branches of the Tree of Life, given "for the healing of the nations," but never eating the fruits that give life (Revelation 22:2). Such a life is filled with the righteousness of the scribes and Pharisees, which does not lead to the Kingdom of heaven (Matthew 5:20).
Forgive me, but I see so many people focusing only on the "attractive external appearance of typical earthly goodness." This is not Christian. Christians don't pat themselves on the back for staying at home during a quarantine. Or at least they didn't in the past. They were the first ones to take care of the sick. The first ones to run to help their neighbors, even if that meant putting themselves at risk. They certainly didn't post nasty messages about social distancing, or get angry at others for not following the state's recommendations.
But perhaps not all of us are called to be front-line warriors. That's ok. There are other ways we can battle this thing. St Philaret continues:
Plunge deep into the dark recesses of your own heart, from which "proceed evil thoughts, murders, adulteries, fornications, thefts, false witness, blasphemies" (Matthew 15:19), and there strive to enthrone purity and holiness, to "keep the whole law," not being guilty even in "one point," lest you be "guilty of all." (James 2:10) How can any man left only to his own wits and strength ever claim that he can accomplish all this? God alone creates "a clean heart, and renew[s] a right spirit" in man (Psalm 50:12). Man must be born from Above to see the kingdom of God. (John 3:3)
There is no better time than now to do this.
Let us give ourselves up to the Spirit's all-powerful action; let us lead our thoughts and desires to him from the pollution of the flesh and the world; let us call out from the depths of our fallenness, that He would come down on us by His grace, through the intercession of our Redeemer. And then, purify, enlighten, renew, sanctify, and save our souls, O Good one. Amen.