This past weekend, I was honored and pleased to take part in Doxamoot, the first ever (as far as I know) Orthodox conference on the works of J. R. R. Tolkien. My talk, titled "Why Becoming a Storyteller is the Most Important Thing You May Do With Your Life," will be available as an audio download at some point soon. Stay tuned.
It was an exciting moment of culture-making, where people who told stories and people who enjoy them came together in a wonderful synthesis. Most pleasantly, the idea that the consecrated imagination is actually a help to Christians came out again and again in different ways.
With that in mind, I thought I'd bring back my occasional link-filled post, encouraging you all to engage with writers and thinkers more intelligent than me who also talk about the subject near and dear to all our hearts. Here goes: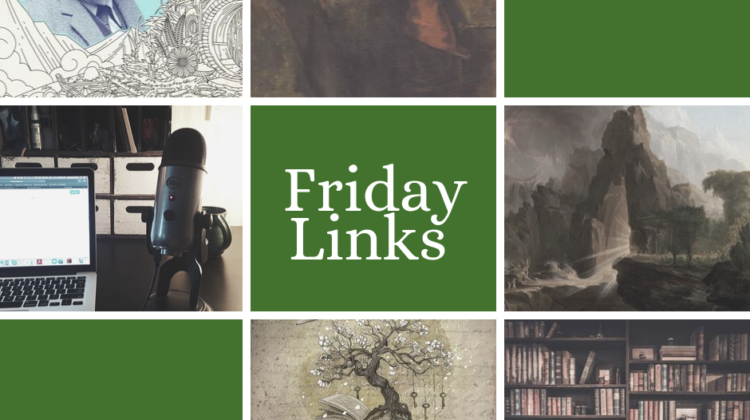 Literature, Culture, and the Western Soul
"Instead of running away from our culture, or trying to deny its power in us, we must face it squarely and understand its essence and origin. This is the first step in forming an Orthodox world view, and this is the first task facing us today. If we are able to do this, we will be able to discern what in our culture is worth utilizing, and what is harmful. Perhaps more importantly, we will gain a knowledge of ourselves, an increased depth of soul, that will permit us to understand how we may become fruitful Christians." Read more here. 
Tolkien and the Hope of Christian Humanism
"Myth connects us to those of the past and to those of the future. Through myth, we grasp the continuity of all of God's Creations, of all of the soldiers in the Army of Christ: those who came before Him to prepare the way, those who fought beside Him during his 33 years on earth, and those who came and come after Him to do His Will against the Enemy, even unto death. "Behind all these things is the fact that beauty and terror are very real things and related to a real spiritual world," Chesterton wrote in 1925 in the chapter on myth in The Everlasting Man. "To touch them at all, even in doubt or fancy, is to stir the deep things of the soul." Myth, then, leads us to beauty, which leads us to truth. Truth leads us to the Good of the One, the Creator of time, space, and all things, who sent His only Son to redeem the world." Continue reading here. 
What Art Can, and Can't, Do
"Many Christians in the creative arts today strive to be goads, striking the flank of society. I applaud them and sometimes join them. There is a time to be a goad, and, many examples show, we should not underestimate the effect of the arts in bringing about change." Continue reading here.
For two more excellent stories about Christianity and the arts, as well as my personal recommended reading list of imaginative literature, sign up below: