This past month, I had the enormous privilege and joy of taking part in a new recording of sacred music in the provincial Russian city of Saratov. This was the second such project, hosted by the Patriarch Tikhon Russian-American Music Institute (PaTRAM). The first occurred three years ago, a project which included 41 singers from three different countries singing together for the first time. That recording later won a Grammy nomination, only to lose in a field crowded with (of all things) recordings of Russian Orthodox sacred music! (You can purchase that amazing recording here).
This time, it was 55 singers from six countries. And the sound was even better. The whole experience was filled with a spirit of concentration and joy that is rare in such recording projects. All the men came together in sound and in heart, and I'm pretty sure the result will be spectacular. Here's a sample (unofficial) of a take from this recording:
But why are we doing this?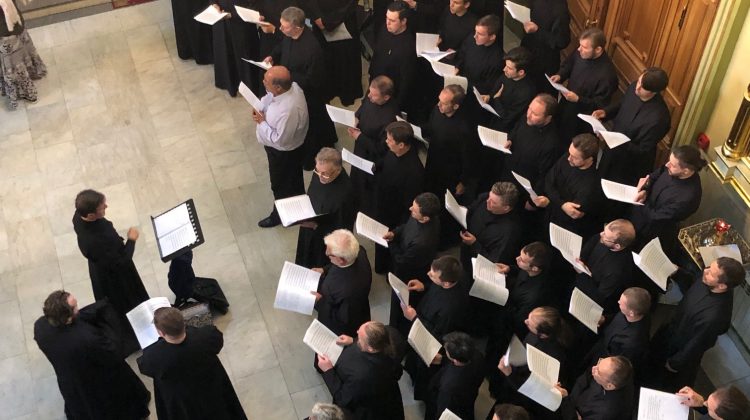 As I was standing during hour four of an eight-hour session, trying to focus my sound enough to sing beautifully, but not obtrusively, I was suddenly struck by a rather inconvenient thought. Why are we doing this? I mean, existentially. Obviously, we're doing it to make a beautiful sound and because we can. But what's the real point of it? Especially in terms of culture creation.
I came up with several possible answers:
Because we want to provide a standard of musical performance that will inspire American choirs to improve church musical culture in general.
Because we want to give people joy in a beautiful experience.
Because we want to win a Grammy
To win a Grammy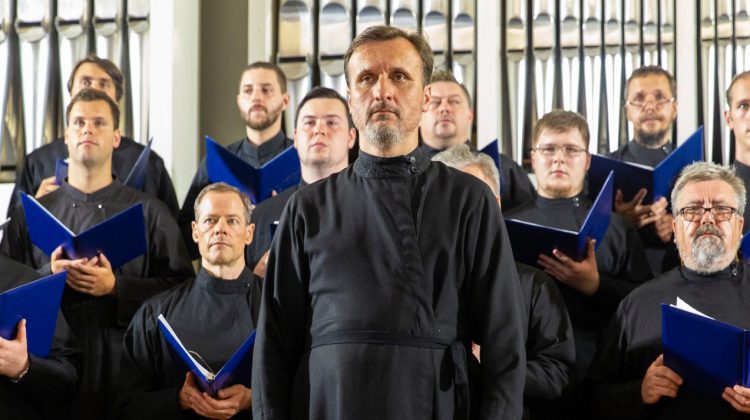 I'm going to approach these backwards. I'm not trying to be flippant when I include this reason in the list. I think there's a legitimate reason to try for a Grammy. The harsh reality is that, at least in the Russian diaspora, there's a very lackadaisical attitude about Church music in general, a kind of "apathy of the just good enough." If we were then able to create a product that reached universal acclaim of the Grammy kind, it would do more than make ourselves feel good about ourselves. It could be a gauntlet thrown to liturgical music practitioners everywhere–we can do something truly amazing.
But there's a problem with this reason. For all the rhetoric, it's still ultimately self-serving. So I'm just going to say it–I hope that this isn't the primarily reason we dedicated hours upon hours of time and energy to such a project.
To give people a joyful experience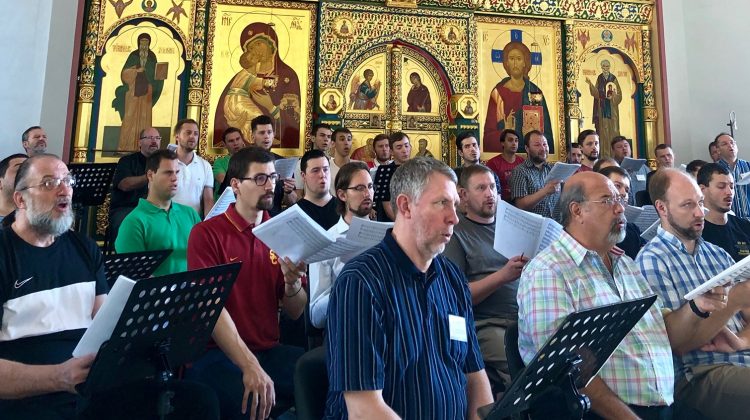 I know from experience that a well-produced and beautifully-sung recording of church music can really turn a life around. For me, that was Robert Shaw's recording of Rachmaninov's Vigil. I never knew church music could sound like that, as in, a true experience of "I knew not whether I was in heaven or on earth." In the digitally-obsessed world we live in, such an experience of simply sitting place, closing your eyes, and letting music wash over you for an hour can be a truly transformative experience.
So that's a good thing. But it is enough of a reason to make such a CD? I'm not sure. There are already some pretty spectacular disks out there, and I'm not yet convinced that either this repertoire that we sang or the performance of it will truly reach the heights of someone like Shaw. So this in itself, though a good reason, is not enough for me.
Plus, there are other, more effective ways of using experiences of beauty to inspire people to transformation in their life. I'm going to talk more about that in a future post.
To create a standard of musical performance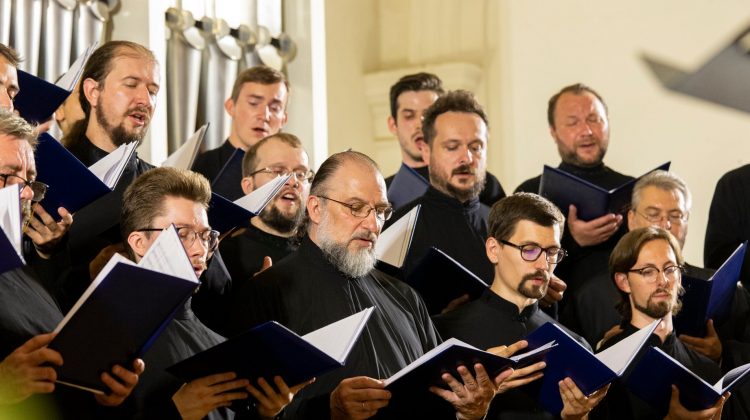 This is the trickiest one of the bunch. It's very tempting to believe that the work we do will set such a high bar for liturgical singing that everyone in America will up the ante and begin to take their own parish choirs to the next level. Once they've heard what can be done, then, naturally, they will do all they can to try to reach the same heights. Right?
I don't think so. Benedict Sheehan has outlined many of the problems we face as church musicians in his wonderful blog The Music Stand. They are significant enough to call it a crisis. There are many ways of addressing this crisis. But this kind of recording, in and of itself, is not enough to address it.
What's missing in all this is something that I don't think we honestly give enough thought to. We should be doing all of this first and foremost for the glory of God. Did we do this for the glory of God? I asked myself that again and again. And I couldn't, for the life of me, answer in the affirmative. If we do it for the glory of God, that isn't the main reason. And it should be.
But what does that mean? How could such a gathering of professional singers become an act of glorification? Is it enough merely to sing a molieben service, to start each session with prayer, to have the conductor make mystical pronouncements about intonation being the same thing as humility?
I don't know. I really don't know.
So where do we go from here?
I keep coming back to Ivan Ilyin's little book, Foundations of Christian Culture. In it, he speaks at length about the importance of allowing the Spirit of God to infuse the individual's creation of culture. To imbue one's own creative spirit with the creative potential of the Holy Spirit. I think what that means is to make the creative act an act of asceticism. How might that work in the context of church music? Here are some ideas:
To battle personal frustration in the midst of bad/mediocre singing with intense prayer
To set aside hours, not minutes, for rehearsals with your church choir
To work on your own time on breathing techniques and vocal exercises to make sure you can be the best singer possible
To actually pray during the singing of hymns
This last one is the most difficult, and I suspect, the most rare. But without it, no ecclesiastical culture can flourish. And I'm not the only one to believe that ecclesiastical culture has to be the source of inspiration for secular culture. Jonathan Pageau speaks about this at length and often.
If each one of us singers begins to think this way about creating ecclesiastical culture, maybe we can closer to a practical and effective method for creating secular culture in our post-Christian time.
I hope so.
I encourage you all to lambaste me, to hurl epithets at me, and to ask me questions about this most important topic in the comment section.