A little over a week ago, I had the pleasure and honor of being one of the speakers at the Ancient Faith Writing and Podcasting Conference in Pennsylvania. I had gone to this conference once before, in 2017. At that point, I was a newbie with a single book published and little else to my name.
This time around at AFCon, I came as a speaker, not a wide-eyed newbie. By now, I have published five books with two more coming this year, and I have two regular blogs that continue to bring new readers every month. AFCon had and continues to have a great deal to do with that. So I came to the conference with a great deal of gratitude, but anticipation as well. After all, the creative, emotional, and spiritual charge I got from the last one lasted for years. What could this year do?
No Public Stage for Us
Because, after all, this is such an unusual event. How often, in our divided American Orthodoxy, do people come together from so many jurisdictions to talk about beauty, about art, and about culture? And though I came this time primarily as someone hoping to offer inspiration, I came away just as inspired as last time, maybe even more.
I was inspired by a wonderful word from our keynote speaker, Frederica Mathewes-Green. Her entire speech was a spiritual pep talk for Orthodox creatives, filled with useful and interesting anecdotes about her own rich life. But her takeaway was almost shocking in its message. She admitted that she had failed in her initial goal as a creative: to reach a level of public visibility so universally recognizable that she could speak the truth of Jesus Christ from the level of the mainstream media.
Except… the people she was trying to reach weren't interested. And Frederica came to an amazing conclusion. There is no more place for a committed Christian creative to take center stage on a public platform the likes of Oprah or Charlie Rose. That's not our audience. And that's ok. There is a hungry audience who craves stories of transcendence and beauty who are ready to listen. Perhaps they are on the margins. But that's where the miracles happen.
People Like Us…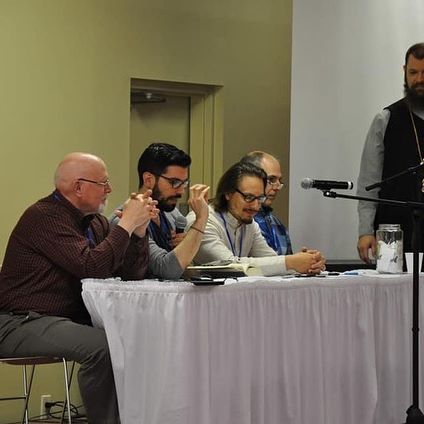 Frederica only confirmed, in vivid and beautiful language, what I had already been hearing even from secular culture-creators. If we are interested in changing the culture (and we really should be), then we need to find our own tribe. Seth Godin, the marketing guru, goes so far as to call culture nothing other than "people like us, do things like this."
In his wonderful and counter-cultural (in the best sense) podcast Akimbo, Godin maps out a way that culture-makers can go about producing meaningful change. The first thing, he says, is to find a tribe of "people like us who do things like this." It's almost a mantra with him. As it should be with us. Instead of seeking that widest of all platforms, like mass media or TV, where everything becomes watered down and bland to try to capture that most elusive (and nonexistent) demographic: "everybody," we should create beautiful things, work out beautiful ideas, write beautiful stories… for "people like us."
And we might be surprised, as was Frederica, at what sort of audience we'll be able to attract. We might be amazed at the change we'll be able to produce.
Causing Friction
Because culture creators know something. We know that ultimately, if we want to create meaningful change, we need to cause friction for people. Not make them feel so comfortable they just passively consume. No. A real culture creator, according to Seth Godin, will speak a powerful story with this underlying message:
What you have is nice. But what I have is so much better. 
This necessitates friction, an awakening to the fact that our status quo isn't enough. Friction is painful, naturally, but nothing beautiful comes from complacency. This truth was repeated again and again in various conversations at AFCon, and especially at Fr. Stephen Freeman's wonderful talk about Orthodoxy and shame. (I never knew you could have an hour-long talk about such a difficult subject and have the audience in stitches almost the entire time).
Beauty through Pain
This point came home to me in a vivid way when I listened to Jordan Peterson interview Bishop Barron for his podcast recently. Peterson berated the Catholic Church for becoming too soft on evil, for emphasizing a message of bland forgiveness and tolerance at the expense of sacrificial love. Effectively, Peterson hinted at a truth that sometimes escapes us, but that was made wonderfully clear in Dr. Cyril Jenkins's talk at AFCon.
We as a people are hungry for immediacy of experience. For getting at the heart of a thing without any mediation. We want to be forgiven, to be acknowledged, to be affirmed. But we want this without an underlying cohesiveness to our worldview, without something that Richard Weaver calls a "metaphysical dream." And so many people continue to search for meaning even when they seem to have deconstructed and explained every possible human experience.
This is true of Orthodox people too, unfortunately, especially those who equate imagination with phantasia, that almost universal bug-bear. Except, as Dr. Jenkins so brilliantly reminded us, we can't make sense of facts without an imaginative framework already in place. Imagination is what makes interpretation of facts possible. And that imagination, that metaphysical dream, is built slowly, painfully, by degrees. And we began building it together in many ways at AFCon, especially when we sang together with the Sheehans one lovely evening.
Further up and further in
It's easy to rest on one's laurels. To keep revisiting the experience of AFCon and wallow in nostalgia. But we must continue to work and to push through the pain of modern existence to create beauty. I have already committed to several new projects as a result of AFCon. I will tell you about them soon. And I hope to continue to inspire you all to find your own path of culture creation.
With that in mind, I'll be making Ivan Ilyin's complete Foundations of Christian Culture, translated by yours truly, available both in ebook and paperback form. Hopefully, it will be ready by next week. I'm also told that my complete lecture from AFCon will soon be available to view. I will share that with you as well, perhaps by the end of this week.
In the meantime, go make something beautiful.