After I published my Call for a New Christian Culture, I received much positive feedback. But lurking behind it all was the heavy question: how? Well, I hope we're all learning about the how together as I post more and more on this blog. But in the meantime, I'd like to offer one avenue that isn't often considered as ripe for culture creation. Liturgical music.
Too often the world of liturgical music is treated as something sacrosanct, something only for a special elite group of already pre-conditioned Orthodox. And sometimes that's a preferable attitude to one of mediocrity, but this attitude comes with a cost. If we limit the experience of church music only to the Orthodox, we are leaving out a versatile tool from our culture creation toolbox.
In a video I shared previously, Sir Roger Scruton and Jordan Peterson both agreed that music is a very effective medium for the experience of transcendence. Scruton especially made the point that some sacred music (Bach's B minor mass) is so powerful that it can almost be overwhelming. But we Orthodox have an even older tradition, more rooted in a continuous practice of liturgy and private prayer. And only recently have some young, brave musicians begun to share this tradition with those who are not Orthodox.
We're Not in Kansas Anymore…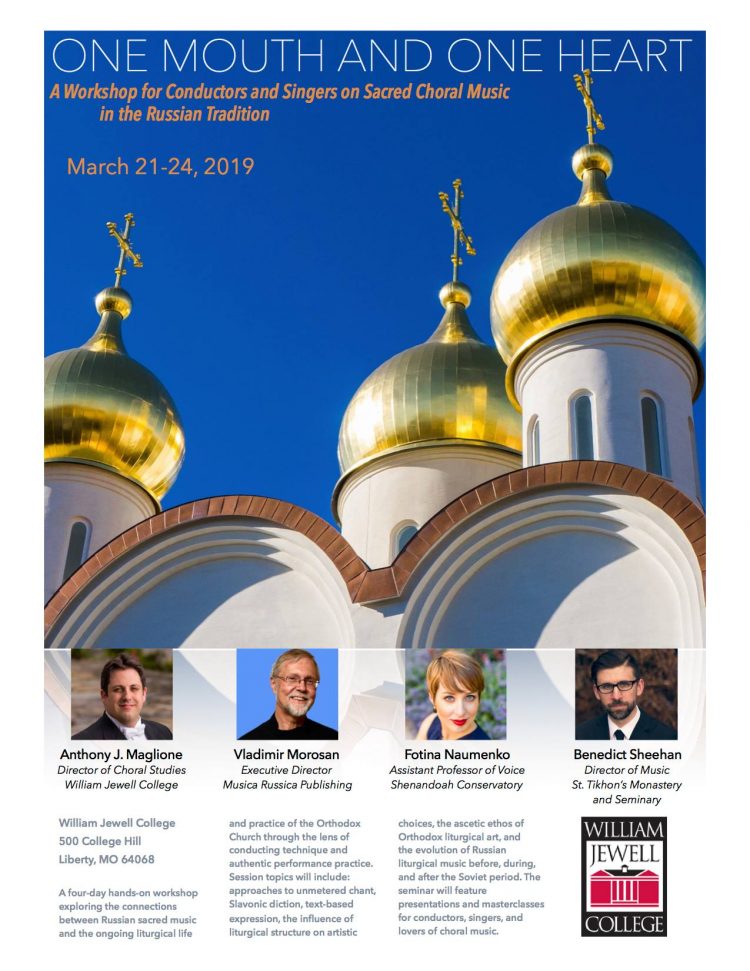 Recently I took part in a conducting masterclass in Kansas City, MO with Benedict Sheehan, himself a blogger on Ancient Faith. It was a strange setting in some ways. A small liberal arts college with primarily secular students, some of whom were about as far from traditional Christian as you can imagine (I believe the phrase "Buddhist atheist transgender person" was actually uttered at a certain point).
This group of people, however, loved Rachmaninov's sacred works. Through this limited experience of Orthodox liturgical music, they were moved enough to come experience three days of nearly full immersion in the world of sacred music of the Russian tradition, complete with a 2 hour lecture, given by a monk, on the ascetic ethos of Orthodox singing, hours upon hours of rehearsing, a full vespers service sung by a group of very competent Orthodox singers, even a session of sight reading music they had never before seen.
The results were incredible. People were affected in profound ways, you could see it even on the surface. When the choice was offered to further their study with a pilgrimage to an Orthodox monastery, about half of the group immediately lined up to sign their names on the dotted line. They had never before had such an experience of aesthetic wholeness, where the body, soul, and spirit were all together directed to the act of creating beautiful music.
A Memorable Memorial Day
Once a year, I have the privilege of taking part in a concert series in Pennsylvania that is fast becoming a high point in my year. My friend and fellow conductor, Benedict Sheehan, has gathered a professional choir on Memorial Day for the last four years now. This choir usually performs new music of some kind, but this year was special.
This year, Benedict premiered a full Liturgy of St. John Chrysostom for a large choir. This was an officially commissioned work that Benedict used to commemorate his father, who was himself a man of letters and an inspiration to many. Benedict wrote a modern piece of music. But it was not new for the sake of newness. It was rooted in the millennial tradition of Russian sacred chant, but expressed in a way no one ever had before. Effectively, Benedict created a work of art that is sure to resonate with people for decades, if not centuries from now.
Perhaps even more wonderfully, Benedict created an experience shared by choir members and audience members alike that had the power to truly move, maybe even to provide a glimpse of transcendent beauty. Here's what one of the singers (not Orthodox, by the way) had to say about the experience of singing this piece:
Words fail to express just what this piece and the entire Liturgy mean to all of us who had a part in bringing this to life. Heaven revealed itself to us all through this aural icon. None of us will ever be the same having been taken to the peak of this mountaintop, this Transfiguration. Thank you, Benedict, for opening your soul to God's in-flooding of grace and beauty and for opening it to us all.
What happened was a rare thing–people of different confessions and political views came together to create beauty. And all of us were changed by the experience. Although I'm having issues embedding video directly here, you can see and hear one of the pieces on my author site. 
These experiences have made it clear that in the grand project of creating a new Christian culture for our time, several things are indispensable:
An experience of many people coming together to create something beautiful together
Music in some shape or form
Innovative forms of culture rooted in ancient tradition
Next week, I'll have more to say about these specific points in my talk at the Ancient Faith Writing and Podcasting Conference. See some of you there!