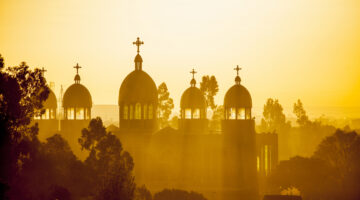 It is often said that the church is a hospital. To be honest, I have always had mixed feelings about this saying. It was as though I would have some sort of defensive reaction to this statement. Afterall, is the church made up of all sick people? Overall, the answer is no. This is because perhaps sickness is not the most accurate way to describe our state. Perhaps it is better to say there are aspects of ourselves that are fallen; distorted from how God intended them to be and in need of restoration. This is true of all of us. So, there are those of us who are in the church presently who are not sick, but rather in the continuous process of restoring the fallen or distorted aspects of ourselves.
It is important to note that we exist as a hospital not just for those within, but also for those on the outside, and those who will yet join our community. A healthy parish has the power to heal and restore one's humanity. The present world however, has a way of marring and distorting our humanity to something far from how God intended it to be. We, as a parish community, are called to have the opposite effect on the souls who wander into our community. Indeed, every parishioner has the opportunity, ability, and calling to become a physician of souls.
I have observed individuals come into a parish community in a very troubled state; a state that made it difficult for others to approach or embrace.  I have had the blessing to witness those same individuals transform over time. Gradually, over the months or years, they became more balanced, healthy, and whole. In essence, their humanity was restored. They experienced love from others in the parish and in turn learned and experienced that they are worthy of love and that they ought not to loathe themselves anymore. They experience how God meant for us to be and live. They experience a healthy family and get a second chance at having a nurturing family; often quite different than the one in which they were raised.
A warm, healthy, and loving community will not expel such souls upon encountering them, but will surround them with acceptance, love, affirmation, and of course the occasional boundaries. Even boundaries teach and challenge those on the receiving end to mature and grow. The parish family gives the gift of belonging, love, and safety. This is a healing gift. It is a gift we are all qualified to give. The most recent research on healing from adverse life experiences indicates that healing can occur most efficiently when we have deep experiences that override what the fear part of the brain tells us. A healthy parish community has the power to give those deep experiences.
It is a beautiful thing to observe the restoration of a wounded and damaged humanity. It is much like the healing of the demoniac in the gospel. What Christ did in an instant, we as a parish community do over time, through radiating the mercy and love of Christ. Indeed this world is much like the tombs where the infamous Gadarene demoniac dwelled. It has become a lonely place that can drive people to madness and to become like the demoniac of the gospel. However, in this present age, the actual habitation of a demon is not needed, this present world is able to do it on it's own.
Christ instructed us to spread the gospel, but He also healed every soul he encountered that sought healing. We are to do both. Nearly everyone healed by Christ became a believer. We are not to spread the gospel only through the power of the word or through teaching, but through our presence, love, mercy, and affirmation. For the parish setting, healing is not only an individual act, but a communal one. Also, healing is not merely a restorative act. It is also evangelistic.
Therefore, we should be encouraged that we are not powerless nor helpless. It is the calling of every parish community to engage in this restorative and healing work. A community's ability to do this is the true criteria to be used in assessing it's health and success. Indeed, it is not in the number of projects accomplished, nor in the number of its membership. Each of us has the power to contribute to this wonderful and beautiful healing ministry. The opportunity exists at every coffee hour, every church service, and every communal meal and gathering. So, truly we are all called to become a physician of souls. We need only to dispense the medicine of love, safety, and affirmation.