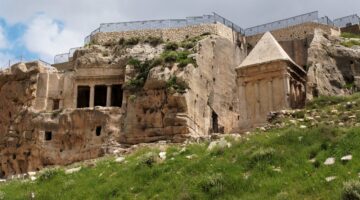 This past Sunday we heard of an encounter between Christ and a person whose suffering was profound.  The man known as the Gadarene demoniac was a frightening presence. He lived among the tombs, was tormented, alone, and cried out day and night. He also inflicted self-harm on himself. I cannot think of a life more alone and isolated than this one.  However, this individual had a story. He had a name and parents. Tragically, at some point, something went terribly wrong. A change of trajectory in his life occurred that led him to a life of isolation and suffering. He had a story to him other than his time living in the tombs.
Christ knew this man's story. We often see this manifested in the encounters between Jesus and others in the gospel accounts. If we only took some time to reflect on the life-story of the challenging souls we encounter, we might better emulate Christ in so many ways. We would do well to respond to the story of a person, rather than to their behavior at any given moment. When we react to someone's life-story rather than solely the aggravating behavior, we can help alter the trajectory of their life in a positive way. In doing so, we give them a life experience they may not have had. However, when we respond to the behavior too harshly and in the ways so many others may have, we are simply contributing to a self-fulfilling prophecy. The challenging soul learns "this is what I do, this is how I make people feel, and this is who I am." This does not mean that we cannot set boundaries or become upset; it simply means we learn more restraint, patience, and compassion.
When we take into account someone's life-story and allow that to be a well-spring of mercy, we can give them a response that might be different than what they are accustomed. This very compassion could help them move past their difficult ways and behaviors. Jesus so often did this with the souls He encountered. We often do not realize the ripple effect of our behavior towards others. Let's look at something as common as driving. We are rushing and the person in front of us is driving in way that is less than ideal. We become impatient and even drive a little too close to them. We focus only on the moment and miss the larger picture. We do not realize that the individual very well is experiencing some form of stress from our own impatience and aggressiveness. We also could inadvertently contribute to someone not wanting to drive again, especially if the individual had suffered a health incident, was experiencing impairment in vision or reflexes due to age, or recovering from something else.
However, when we catch our impatience and irritation and reflect on the potential story of the person, we can suddenly be able to access a patience, restraint, and mercy not typically accessible to us. We then contribute to someone else having a positive experience, which helps them to heal and grow. The driving example was a small but common one. We can apply the above to all life situations.
We also have a story. God knows that story and like the Gadarene demoniac, He can reach us in our darkest and loneliest moments. Our painful experiences and subsequent struggles can often cause us to feel alone and separated from the rest of humanity. Often when we are really struggling, whether too acutely or for too long, we can begin to lose hope that God is aware or will help us. We often stop reaching out for help. This is when our prayer life tends to fall away. We believe that we are out of God's reach, like someone who drifted too far out to sea beyond the reach of rescuers or for too long, and the search is called off. However, unlike the Coast Guard, God can find us wherever we are and no matter how long we have been struggling.
Indeed, we often observe that finding someone in the ocean is like finding a needle in a haystack. We might even wonder if that is what we are to God, a needle in a haystack. However, as C.S. Lewis wrote, "God has infinite attention to spare for each one of us. You are as much alone with him as though you were the only being He had ever created." Such as it was with the Gadarene demoniac. God knew him. He knew his story and reached him in the tombs even though he was under the influence of another power. There is no place we can be where God cannot find us. Like the man suffering in the tombs, our time of rescue may come at a time when we least expect it. Our own visitations of God's grace may come when we least expect it. So, let's not lose heart, keep praying, doing the healing work, and waiting for God. He will show.