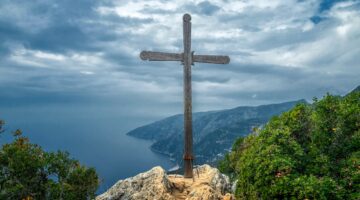 We wonder about so much. We are unsure about so many different things. Universally, we all struggle with uncertainty to some extent. It is human nature to want to know and be sure. Finding certainty in this world has proven to be elusive. However, there is something on which we can lean all of our weight upon and be certain of, and that is the love of God. It is important for us to first reflect on this before we process all the uncertainty in our lives. It is important because the love of God is the great simplifier. It simplifies our lives in that all else, all of our perceptions and meanings we assign to life events, have to be measured up to the love of God to make sure they are consistent with what we know and believe about the love of God.  It is also the great simplifier because it reduces all of our pain and struggles to what will prove to be temporary and fleeting experiences.
However, before we even begin to reflect on the love of God and the certainties that it brings, let us first try an exercise. Let us reflect on what we desire for those we love. We do not want them to suffer. We do not want them to struggle or to experience any kind of pain. We try to alleviate their suffering or pain. We wish to see them regularly and to have regular contact with them. We like to be in their presence. Truly, if we had it our way, there would never be any significant distance between us and them, and we would want only the best for them. Is it any different with God's love for us? Or do we love better than God? Of course we do not.
Perhaps the greatest uncertainty with which many struggle is that of death. Even those of great faith have moments where they ponder this great mystery. However, if we guide our perceptions and understanding on the love of God, we can begin to catch glimpses of the reality that everything is going to be okay. In fact, more than okay, they will be jubilant and joyful. Would the love of God tolerate a permanent separation from us, from those whom He loves? Certainly not. Would God permit us to sleep forever? Certainly not. Would God want us to spend eternity in the darkness of non-existence? Certainly not! Love would not tolerate any of those realities. Would we desire those dark realities for own children? Certainly not!  So it is with God's love for us. We see the love of God expressed through action in Christ's death and resurrection and God filling all places with Himself. We cannot escape the love of God and His presence. There is no greater certainty on which for us to lean than the love of God.
This present world does not tolerate love well. Our society encourages distance and even seems to shame closeness. We are subtly influenced to feel that somehow love is not healthy and that it is weakness. It has indeed reached a point where the one who loves can begin to feel like there is something wrong with them. It can be a lonely experience when we feel this way. Can we love too much? Is it wrong to seek contact with those we love? Is it wrong to express our love in healthy ways? I think not. Yet, there are many who struggle to receive love from others and as a result can influence the one who loves to believe there is something wrong with them. It is important to realize we should not internalize or personalize someone else's discomfort with receiving love.
So, while still in this broken world, we can bask in the light and wonders of God's love. It is the starting point of our faith and the foundation of our spiritual lives. All else must be built upon it. If we set out onto the spiritual life and have not established awareness of the love of God as the foundation, then we have built our spiritual endeavors on a base of sand. We will struggle to get traction and experience frequent setbacks. It is never too late to go back and set the love of God as the cornerstone of our faith. Afterall, with the certainty of the love of God, what uncertainties really matter?