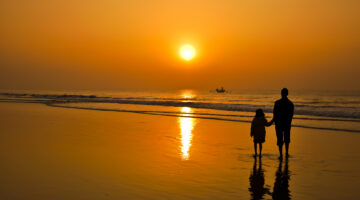 In the gospel reading this past Sunday, we heard some of Christ's final words to His disciples before he would depart from them. In the midst of the meaning and power of His words was a father's love for His children. He knew that when He left, they would be subject to tumultuous forces. In Christ's words were affirmations that He did everything He could for the disciples in preserving them and keeping them safe.
For many parents, our minds and hearts will inevitably drift to similar thoughts and affirmations when our time comes to depart this world. Whether or not we were a good parent becomes of the utmost importance. Regrets can also come to the surface at this time and we can feel missed moments more profoundly. Upon this final life review, and when there is nothing else to distract us, our minds and hearts can focus on that which is most important. Indeed, how our daily business and tasks can keep us from tending to that which is most important and to that which is most likely to surface in our final days. Surely there must be a way to maintain our focus and awareness on those very things even before our final days. However, this is not the focus of this article, though it is worthy of reflection. The focus of this writing is on the parallels between the lives of the disciples after Ascension and our lives now. Though they might seem so different, the same fatherly love and providence is present in both.
We know that Christ did not abandon the disciples after He ascended. He would send the Holy Spirit who would be there for them the remainder of their days. However, despite that help and comfort, the disciples were to continue on in a world that is largely governed by the free-will of others. The disciples would be subjected to turbulent forces, much like we are today. God has chosen to not over-ride the free will of others. He treats us as adults. In the gospel reading last Sunday, Jesus makes reference to the fact that none of them were lost except the son of Perdition- Judas. Christ can do all things, yet still Judas did what He did. Indeed, like the disciples, we are affected by and suffer due to the free will of others. These truths of free-will are often difficult for us to accept. It is often much easier for us to blame God for letting certain painful events happen.
During times of struggle or fear, especially during times like we are presently passing through in which there has been a pandemic, widespread financial uncertainty, and world instability, we can feel abandoned. Sometimes we just feel it and sometimes we verbalize it. When we verbalize it, it usually sounds something like "where is God in all of this?" and "Why doesn't He do something?". The fear of abandonment is a universal fear. It is something universally unpleasant to all.  Abandonment is not just the absence of a physical presence; it is also the absence of roles- such as protection and having a parent figure or caregiver being in control. Our lives today are not unlike children who feel left at home alone with something frightening going on and wondering when will mom or dad be home to take care of us.
In child development, there is something called Object Permanency. It is the child's ability to grasp that even though they cannot see an object (such as a parent), they still exist. Until this ability is mastered, if the child cannot see their parent, then they don't exist and the child goes into distress. However, this milestone is achieved as they grow and they become secure in the fact that even though they cannot see a parent, they still exist and are there for them.  In many ways this applies to us and our relationship with God. Many struggle with this spiritually. We may have not matured enough spiritually to realize that even though we cannot physically see God that He nonetheless exists. Indeed, as this world becomes more distorted, we very much need to make sure we have mastered this ability.
This leads us to the question; do we understand how God takes care of us? Many of us have great misconceptions about this. God has provided for us by being the "book-ends" to our lives. He is the alpha and the Omega, the beginning and the end. We know God as the creator of all, that we have been given life in this world, and we know that God has our departure from this world and what comes after covered.  He does not provide for us by controlling everything that occurs in-between. Our lives that occur in between those "book-ends" are very influenced by the free-will of others and indeed our own. We need to accept responsibility for this and be confident that we have not been abandoned in this troubled world. Yes- there is pain in the days and time in between those "book-ends". It is precisely in that time and space that many get tripped up so to speak and lose faith. However, in essence God is telling us, "I need you to trust me on this, in the end everything will be okay, there will be times of stress and uncertainty, but if you stay with Me, there will be something so joyful and full that it will wipe out the significance of any earthly suffering that you have experienced".
When we are in the midst of this world, our lives and our small number of years seem so great and significant, but what are they really in the face of eternity with God?  However, even in those days in between the beginning and end, God has not abandoned us. He is there watching, listening, and even intervening when it is helpful for us and without overriding free-will. The Holy Spirit is everywhere present, yet we often pay no attention to nor seek the Holy Spirit, and we then claim no trace of God can be found in this world. If we can come to terms with these truths, then we might not feel so betrayed and disillusioned when unexpected painful events occur.
So, God is there for us like the parent of an anxious child. Many parents can relate to having to send their kids off to something that they are fearful about. Their knowledge is limited, however ours as parents is not so limited. We know what they do not and we urge them forward even though they are afraid. We cannot save them from all discomfort. Inevitably they will have to feel some pain, fear, and disappointment. However, through all of it, we have not abandoned them, we are present and watching, and providing comfort. We accept this quite readily in our own parenting, let us apply this to God's parenting of us, in this world in which we must go forward.