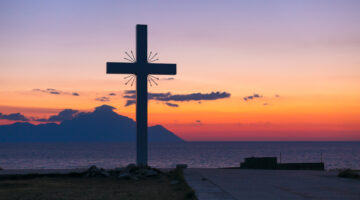 This past Sunday allowed us a final liturgical meditation on the cross before the Leave-taking of the Elevation of the Holy Cross.  The presence, existence, and image of the cross measures our attachment to this world. It is indeed a measuring stick. When we see the cross, do we feel indifferent, or do we yearn for something more than this world? Perhaps there was a time when we were sitting in traffic, and we caught a glimpse of a cross sitting high on top of a church. Did it for a moment, pull us from this world and towards the Kingdom of God?
The epistle and gospel reading this past Sunday were both about attachment. They were about attachment and our willingness to let go of things. In the epistle reading St. Paul writes about his own process in having to let go and die to the old (the law) and live for something new (Christ). He went on to explain further in his letter to the Galatians, "I have been crucified with Christ. It is no longer I who live, but Christ who lives in me. And this life that I live in the flesh, I live by faith in the Son of God, who loved me and gave Himself for me."
Upon St. Paul's encounter with Christ on the road from Jerusalem to Damascus, St. Paul had to let go of his former belief system, his purpose (persecuting the church), his temperament, and his ego. This was not a mere behavioral shift. He had to let go of his identity and purpose.  St. Paul did not instantly go from being Saul the great persecutor to St. Paul the super apostle. He spent three years in Arabia and Damascus. He no doubt engaged in the process of coming to terms with and letting go of his former life and in discovering his new purpose.
The gospel for this past Sunday was also about attachment. However, unlike in the epistle which highlighted St. Paul's former attachment to his previous beliefs, identity, and purpose; the gospel reading is about attachment to our life in this world. The Lord said, "If anyone wishes to come after Me, let him deny himself and take up his cross and follow Me.  For whoever would save his life will lose it; and whoever loses his life for my sake and the gospel's will save it."
We might not have that dramatic encounter like St. Paul did while on the road from Jerusalem to Jericho, however there are other events that challenge our attachment to this world.  Very often, life stages unmask and expose our attachment to this world. Whether or not we transition through life stages peacefully or painfully tells us a great deal.  Any pockets of an unresolved past may become revealed upon transitional life-stages. Moving from one life-stage to another can force to the surface unprocessed pain or experiences. It is as though our mind knows when we need to unload unnecessary emotional baggage in order to proceed to the next life-stage. We speak of life stages such as moving from ages 19-20, 29-30, 39-40, 49-50, 59-60, and onward.  Inevitably we have choices to make as we approach these milestones.
We may even try to fight and resist these stages. So often we engage in various ways to resist time and age. This often comes in the form of being stuck in a state of perpetually looking back; having a gaze or focus that is fixed on the past. This can manifest itself in something as innocent as dyeing our hair to something more severe such as an all out mid-life crisis which can lead to rash decisions. Perhaps a certain amount of time spent in this state is normal, however we must come to the point where we say to ourselves, "I can't stay here. I have to move forward". In essence, we begin to cooperate with time and God's plan for us and let go of what we have held onto for so long. We cooperate with time by finding and embracing who God wants us to be and what our continued purpose is in the present. The letting go of a life-stage and embracing the next one, is like a death and resurrection. As Fr. Thomas Hopko once said, "Our life is a practice in dying, in letting go our life". Navigating life's stages gives us plenty of opportunities for this practice.
In essence, we come to terms with what St. Paul had to come to terms with. Life-stages and their changes, can hit us like St. Paul's encounter on the road to Damascus. St. Paul gives us a pattern to follow. We set about, like he did, to find and embrace who God wants us to be. For St. Paul had to not only give up his purpose but also his identity. For us, when encountering a new life stage, it can feel very similar, especially when reaching the "empty nest" or retirement. We may need to take some time, like St. Paul did during his time in Arabia, and come to terms with letting go of how our life was for so long and embracing our next calling. Truly, what happened to St. Paul on the road to Damascus happens to us over a lifetime.  It's all about coming to terms with and letting go, just like St. Paul did. We should take heart and not be too hard on ourselves. God is patient and merciful. He allowed St. Paul those three years just as He allowed Elijah in the wilderness time to find his bearings and come to terms with what was happening in his life.
We spend a lifetime on the road from Jerusalem to Damascus. We encounter the Christ and the cross regularly during our lifetime. To resist time, age, and life-stages is equivalent to "kicking against the spikes" as Christ said St. Paul was doing in fighting the church. As one life-stage comes to a close, a new one awaits. God has given us a series of adventures until the Kingdom of God. No one reads a book and then refuses to move on from the present chapter. Let's trust the author of our life and keep moving.