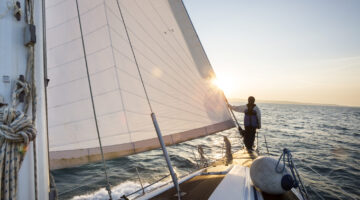 It is good to pause and reflect on what spirit or disposition we engage our daily life. Have we been living reactively or proactively? Each one has profound ramifications for our emotional, spiritual, and physical health. When we are living life reactively, it means that our default daily functioning tends to be living life proverbially on our heels. We never feel that we have a firm footing in our lives. We seem always be in the process of responding to something unexpected or not planned. We feel at the mercy of the powers of this worldly life and at the beck and call of others.  It can even reach a point where we feel that everything that we do, we do because we must, not because we genuinely want to do it. This can happen even with good deeds or tasks we normally enjoyed.  Soon, everything can feel burdensome and we become burned out. When living like this, we often feel that we never get a chance to do things we had hoped or wanted to do.  We live with a profound doubt that we can affect anything in our lives and that we are adrift amidst a sea of external events, demands, and the needs and wants of others. It doesn't take very long of living like this before we begin to feel like our lives are out of control. We feel powerless, become an anxious mess, and even depressed. We often also don't realize how living reactively can rob us of our self-confidence. It is hard to feel confident when we have taken so much on that we feel we can't do any one thing well and thus feel helpless.
When we are living proactively, we are leaning into and engaging life, rather than letting life having us on our heels. We speak about our mindset and disposition towards our lives in this world. When we are living in a proactive spirit or disposition, we live deliberately. We demonstrate better control of our time. It is not so much about time-management as it is about our ability to exercise self-control with our daily schedule. Living proactively means saying "I can't do everything and I am not even going to try". It will mean declining certain things. It might mean postponing certain events in order to spread them out to avoid unnecessary stress. It also means we are not afraid to block out time each day to have some stillness, in which we pause time, and orient ourselves to where we are, what has happened so far in our day, and what we plan to do later. Perhaps we have to learn to be okay with our kids doing one or two activities rather than three or four. For too many of us, time and worldly standards are taskmasters at our backs, robbing us of our health and driving us forward without being able to take a deep breath. However, can learn to become the taskmaster who wields time and listens to the Holy Spirit rather than the standards of the world.
It is about exercising health self-care, something that can be counter-intuitive to many Orthodox Christians.  Some may fear that self-care means self-centeredness and spiritual self-indulgence. It does not. Self-care means maintaining ourselves so we can continue to be well pleasing servants of God who radiate the joy, peace, and light of Christ rather than the gloom and darkness of this world. It means investing in being able to be more in the present moment rather than a ball of stress who never has time to talk to anyone with any depth. It stresses quality of our interactions and tasks rather than the quantity of how much we get done. We would do well to reflect on Christ and how He withdrew to the mountain to pray, despite the multitude of needs around Him. It is okay to give ourselves moments in which we pause and take inventory of our inner world, so we know how best to proceed next; much like a responsible captain of a ship, who gathers data related to weather and position, before proceeding further.  When we live reactively, we are like a ship that is storm-tossed and knows only to go in the directions that the currents take it. Indeed, such a ship will never reach its destination. Sadly, many of us, if we are not vigilant and deliberate in changing course, can be adrift for a lifetime due to living reactively.
So, what does a day in a life that is being lived proactively look like? It means no matter how much we must do or what has to get done, we clear 20-30 minutes in the morning to pray. This builds the foundation of our day. It gives us our footing and tilts our disposition forward, so we are in a position to lean into the world and the day's events rather than start the day on our heels. Starting the day with prayer means we are like the ship that starts its voyage with the sails up.  Keeping that prayer time is an investment that will pay dividends for the remainder of our day.  We become okay with the reality that because we prayed, there might be another task that is not completed that day, and that is okay.  We then dictate to time and the world what we will be doing that day. We structure our day to allow for some downtime, whether for exercise, prayer, hobby, coffee, or anything that gives us a moment to pause and orient ourselves. We embrace the model that it is better to get two or three things done a day rather than five or six things and be a miserable ball of stress. Rushing has become the toxin of the American lifestyle. We do not have to partake of it if we live proactively.  We may also have to give up the "keeping up with the Jones's".  When we live deliberately like this, we become more at peace, more in the present moment, self-aware, confident, and grounded. Also, when frightening or stressful times do occur, we will find we are better able to navigate those trying times and stay above the storm so to speak.
Inevitably, of course, there will be those special circumstances where we must adjust and work intensely all day to meet responsibilities. There are those days where we will have to react to the unexpected. However, even then, those times are the exception and not the rule. For too many of us, our default functioning has become the other way around.  This all involves making changes and choices. Of course, God may also send some unexpected encounters our way that we must respond to in a spirit of love and charity.  However, even then, at least it is God sent rather than us being a victim our own self-chosen lifestyle. So, what do we choose? To become a storm-battered ship with no direction or a swift moving ship navigating rough seas and never losing direction and course?