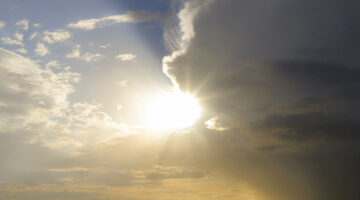 It is hard to believe that soon the one-year anniversary of the pandemic will be upon us. As the pandemic has worn on, the ways in which it has affected us have become more subtle and harder to detect; though profoundly felt. Many of us are mentally tired and fatigued. For some of us, activities and interactions that we so enjoyed before the pandemic now seem like a distant memory. We may even have had a moment where something that was so part of our life before, suddenly seemed distant in a way it had not earlier in the pandemic. Perhaps it is the care free coffee hours or other fellowship events at our church that we miss and feel we have almost forgotten. Perhaps it is the school events for our children, going out for dinner with our family or friends, or just deep connection with others. Zoom and other media are great; but alas, not the same as being in one's presence.
To further complicate our processing of these trying times, we in the United States have been subjected to challenging political forces and events in midst of the pandemic. What a collision of tribulations! Our lives we were living before 2020 were already challenging enough and many of us were already living with proverbial full plates.  Additionally, some of us may have recently experienced the loss of friendships due to the polarizing forces that have besieged us over this past, long year. The losses we have experienced are manifold and layered in such a way that it can be hard to stay conscious and aware of all of them. It is not long before we can enter into "overload" and start to feel dazed, in a fog, or just emotionally numb. These can be signs of being overwhelmed; where life is just happening at a pace or intensity that we cannot process adequately. Emotionally we become backed up just like a clogged pipe. One analogy I have used recently to capture this phenomenon, is that of a paper shredder.  If too much paper is fed through it at once, it freezes and stops functioning, until the paper jam is cleared. Many of us are feeling like that paper shredder that has had too much fed into it at once.
So, what do we do if we are among those who can relate to the above? Of course, we cannot control the pandemic or politics. However, we can control our response to them. We can take some time to pause and begin paying more attention to the underlying meanings we are assigning to all of these events and forces acting upon us. In doing so, we can give our minds a chance to catch up on the processing of these events. This is how we gain a sense of mastery over everything going on; it enables us to not feel out of control and keeps us feeling like we are staying afloat. The experience of feeling or being powerless is an ingredient in traumatic experiences, especially when there is a perceived danger present as well. During all such experiences where there is powerlessness and perceived danger, we need to gain some sense of mastery so we do not suffer the ill effects of such circumstances. As Aaron Beck once said, "all emotion is preceded by perception". This is quote is quite consistent with the ascetical teachings of the church. We would do well to study that simple quote and begin to apply it to our lives. How exactly have we been perceiving all of these events, what meanings have we been assigning to them?  What have we felt as a result of these meanings assigned or perceptions? The answers to these questions will start to help us clear our emotional blockages that have formed.
There are things we can do to reduce ambiguity and uncertainty that will help us feel just a bit less powerless and less adrift upon this sea of life. We can sit with a piece of paper and write out in list form, pie graph form, or any form, the many losses we have had and to what extent each one is affecting or upsetting us. We can talk about them with another person. We can grieve if we need to grieve. It feels great to get those emotions flowing again, if even in the form of grief. We start to feel alive again, after having felt emotionally numb for so long.
In addition to the processing and being aware of our perceptions, behaviorally we need to be deliberate. Hopefully, by the grace of God, we will have a relatively normal summer. Perhaps it is time to plan that trip or vacation, to buy in advance those tickets for summer sports or events when it is time. Perhaps it is time to start putting out flyers for late spring church events, even if they are done outside. There are things we can do. It is very powerful to come to the realization that due to our perceptions that we choose, much in life is what we make of it.  I can perceive myself to be powerless in the face of the events of the past year or I can perceive myself as engaging, innovative, creative, and deliberate in what I can do. We can start to plan now for when this present tribulation is done. It sends a message to our brain that this trying time will end. This has emotional ramifications in that it rekindles hope. It is not too early to prepare for the passing of this storm. Let us open our 2021 planners and start to reclaim our lives!