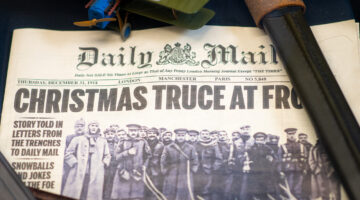 The Nativity season is here and a window of opportunity has opened. However, the opportunity that is offered requires synergy between us and the Holy Spirit. It is a powerful time of year. The main themes of our Lord's Incarnation act on all of us during this Nativity season. Humility, love, and a yearning to mend broken or missing relationships tug at our heart. This opportunity, if it is to be experienced, requires those pensive, introspective moments that tend to be more prevalent this time of year.  It is during these moments that our minds and hearts traverse spaces and time they might not normally during other times of year.
We are reminded of the famous Christmas Truce of 1914 that occurred on the WWI battlefield on the western front in France.  This example might be one of the most powerful examples of the power of the Nativity season. Perhaps there was no darker place and no more hostile place than the trenches of WWI.  It was Christmas Eve night and each side was in their trenches trying to keep warm and no doubt their minds and hearts were focused on home.  A space called "no-man's land" separated their trenches. It was a forbidden place of great danger. If one emerged from the trench or entered no-man's land they would be instantly killed.  Amidst that dark and cold place arose a sound. It was the sound of Silent Night in German being sung. The singing rose from the trench and travelled across no-man's land to the trenches of British soldiers. Stunned, the British soldiers began to sing back. Soon afterward, a lone German soldier emerged from his trench holding a small Christmas tree with candles attached to it. He raised it above his head in a Christmas greeting to his arch foes on the other side. Soon, soldiers from both sides came out of their trenches and celebrated Christmas together.  Truly, the light of the Nativity illuminated one of the darkest places on earth. However, the Nativity was lit first in the heart of that individual soldier, then it spread to that larger part of the western front.
There are times in our lives when our hearts can become like the barren, cold place of the western front. Life is hard and relationships are challenging. We may find ourselves with multiple fractured relationships. In any conflict or rift with another, it is as though we are in our trench and they are in theirs.  There is a no-man's land that separates us that is a place of vulnerability and that no one dares to go into.  However, if no one ever takes that chance, if no one takes that risk, if no one ventures out, there can be no truce or permanent healing.  This Nativity time does not tolerate brokenness well. We feel the presence of people missing from our life more profoundly this time of year. Indeed, something stirs in our hearts.  That same nudging or power that stirred the heart of the German soldier during the Christmas of 1914 to do what he did, also now acts on us and tugs at our heart.
The humility of the Incarnation is presented to each one of us as a gift during this Nativity season. If we are willing to be vulnerable and to accept it, it opens a door or view in our life that shows us all that is missing or broken. Suddenly we see it all so clearly. There is then a powerful urge to want to mend and heal that which is broken, to reach out to the one we have been estranged from.  This Nativity phenomena occurs and is birthed during those quiet, pensive, and introspective moments. What will we do? Let our new found awareness go unacted upon? Or will we act and restore the broken? If we choose the latter, then truly we have discovered the meaning of Christmas and have manifested the Nativity in our own lives. Certainly we have these opportunities throughout the year, however, the Nativity light illuminates and casts light on that which is fractured, broken, and missing in our lives. It is seen and felt more profoundly. The Nativity spirit is there for us to tap into and experience. Let us not be afraid. Let our hearts traverse the no-man's land in our own lives; to send that letter, to make that phone call, to those with whom we have become estranged. If it could happen on the western front in 1914, then truly it can happen during our present time.