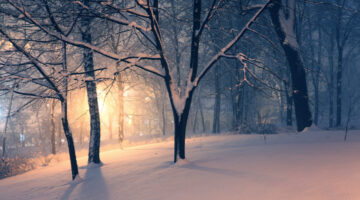 It is the time of year that makes some shudder. The days have become shorter, the colorful landscape has turned darker, the leaves have begun to rustle, the clouds have changed, the air has grown colder, and the way the wind blows speaks of change and of a season ending. However, it is not far into this time that we begin to see a different light appear. It is the light of the Nativity season.  The shuddering of some is now forgotten as we behold the first appearing of Christmas lights, bows, and Christmas trees. We suddenly find ourselves embracing this time of year as we finally let go of the light of summer and embrace the light of our Lord's Nativity.
Just as this light of the Nativity season physically breaks through the seeming darkness of late autumn so it seeks to break through into our hearts. I remember well a Christmas Eve day almost 10 years ago. My father, who lived alone, called on the phone and it was apparent that he had been sitting alone for some time and reflecting on his life. His voice sounded heavy and introspective. He finally spoke and asked forgiveness for everything that had happened over the past 30 years. Coming from a man who had rarely accepted responsibility for his actions it was quite significant and no doubt tied to the season of the time. Since that call, every Christmas Eve day around that time of day I feel the presence of that phone call, and at times have found myself glancing at the phone to see if it might ring. However, knowing that he departed this world some years ago, that glancing over to the phone is soon followed by the realization that all was accomplished in that phone call 10 years ago. There would be no more apologies or requests for forgiveness and indeed none was needed.
Truly I consider myself blessed and fortunate to have received such a phone call. We are not perfect, our lives are not perfect, and our relationships are not perfect. We try to love and be loved but we often fall short. However, there are times in our life when those imperfections, fractures, and hurts float to the surface and we feel them more keenly. When these times do occur it is time to act. This Nativity season is a time that often initiates this process. The story that I shared is not an isolated one. There are many who are moved this time of year by deep reflection, introspection, repentance, and a desire to reach out to one who may seem a bit further away. This is true for both the believer and unbeliever. The power of Lord's Incarnation profoundly influences and affects all this time of year.
This process is part of God's ultimate gift to man and that is His Incarnation, when God became man to bandage our wounds, mend the relationship between God and man, and to restore that which was lost when the first people disobeyed God. God initiated this healing event in the ultimate act of reaching out and humbling Himself. We are called now to imitate God and go forth to mend that which is broken or missing in our life. Indeed, our journey on the road from Jerusalem to Jericho as the Good Samaritan is intensified this time of year. We are to take stock, assess the relationships in our lives, and make amends where necessary. It is unnatural and unhealthy to live in a state of fracture or conflict with another, we must always strive to resolve the wound. When we live in a state of fracture or conflict with another, there is a part of ourselves that gets shut down in order to cope with this broken relationship. There is a part of us where we stop feeling. We get backed up emotionally so to speak. However, when the urge to reconcile moves us and we reach out and mend that broken relationship, the emotions get moving again and we feel alive.
The event of the Incarnation took place in a relationship, a relationship between God and man. Relationships do not just fix themselves, one must act, one must humble themselves as Christ did, make contact, and heal. We begin with those closest to us and then work outward from there. If there is a sibling or parent who we have a fractured or strained relationship with then we begin there. If the relationships closest to us are all well then we begin to reach out to those we do not know, who may be wounded or suffering, and tend to their wounds through acts of love and mercy. How quickly what seems like a temporary rift with another becomes a rift that lasts for weeks, month, years, and then decades. How often it seems to take a tragedy or loss to bring others together and to reconcile. As Christians we are called to heal what is broken now. If God initiated and took the first step in reconciling God and man, then who are we not to? Of course we cannot control the response of the other. At times an act or gesture of peace or reconciliation is rebuffed or rejected. However, in such instances, at least we can say that we loved and tried. This alone will give us some peace.
The power of our Lord's Incarnation cannot be ignored. It acts on all of us this time of year. We know it through the tugging at our conscience and our heart. Those moments of rumination, when we ponder that which is missing in our life, can lead to healing and reconciliation if we just stay with those moments and see them through. It is there for all of us to tap into and to experience what it means to commemorate our Lord's Incarnation. We must initiate, humble ourselves, and be the presence of Christ entering into the life of another. Our Nativity season will not be complete without it.