The Healing of the Human Heart is a new blog from Fr. Michael Shanbour that will explore our human spiritual life. Drawing on the teachings of the Church Fathers, Fr. Michael will focus on the heart and the nous. Because the heart is the center of our existence, his posts will touch on many topics, from spirituality, to culture, economics, and popular trends.
One special goal of this new site is to become the most extensive online collection of quotes from the Fathers about the heart and the nous. Do you have a favorite you'd like to share?  You can send it to Fr. Michael here.
Fr. Michael's first post begins with the day he and his son set out to play in the snow with an unusual Christmas present.
The Healing of the Human Heart
By Fr. Michael Shanbour
This year for Christmas, my eight-year-old son received a boomerang. It's a bright orange color – almost a florescent orange – with a couple black stripes. Mom was working at the hospital on Christmas day, which left me and my son to sleep in (after midnight Nativity service and staying up to open gifts) and to eat all kinds of rich, non-fasting foods.
After meeting mom at the hospital cafeteria for lunch, we decided to make an excursion to a wide-open space to try out the boomerang my son was very excited about. My practical side, informed by childhood memories, doubted that we would have any success in getting that boomerang to actually do what boomerangs are supposed to do.
My more philosophical side was thinking about opportunities for imparting wisdom to my son like, "You know, whatever you throw at life usually comes back to you, and sometimes hits you right in the head." I was also thinking, "This could be a little risky considering there is over two feet of snow on the ground!" But I put that thought aside.
About the Author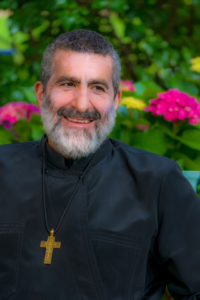 The Rev. Fr. Michael Shanbour is a lifelong Orthodox Christian and pastor of Three Hierarchs Orthodox Mission in Wenatchee, Washington. He received his M.Div. at St. Vladimir's Orthodox Theological Seminary in 1989. He has been active in youth, camp, music, and Christian education ministries. Fr. Michael was ordained to the holy priesthood in 2001 and pastored mission parishes in Topeka, Kansas, and Spokane, Washington, before being assigned to Three Hierarchs. He is blessed to live in Wenatchee with his wife, Makrina, and son, Simeon. Fr. Michael is the author of Know the Faith: A Handbook for Orthodox Christians and Inquirers.